Former Baseball Player Denies Allegations of Domestic Abuse in Halle Berry Divorce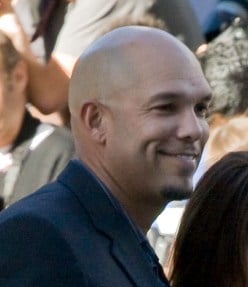 Former Atlanta Braves all-star David Justice has opened up about his 24-year-old divorce from actress Halle Berry to specifically deny longstanding rumors of domestic violence. Justice spoke with PEOPLE magazine about the split.
Berry never publicly named Justice as the culprit, but has discussed an abusive relationship. She said she suffered permanent hearing loss in one ear due to the abuse.
In their 1997 divorce, Berry filed for a restraining order against Justice, alleging that he stayed outside the home for four hours and demanded to be allowed in to retrieve some belongings, at one point yelling that he would break windows and doors.
Justice said the rumors of domestic violence have continued and have hurt his reputation and subsequent relationships. He said the damage diminished his marketability as a baseball player, and he believes he lost endorsement deals.