Court seals divorce records in Alabama governor's divorce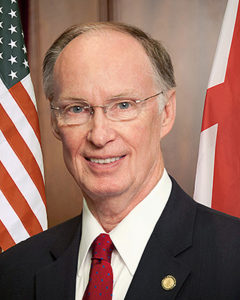 A court ordered the records of the divorce of Alabama Gov. Robert Bentley and his wife to be sealed, statewide news site AI.com reported Monday. The court granted a joint request from both Bentley and his wife, Dianne.
The order means that any records of the divorce are to be unavailable to the public. They may be viewed only by the two parties to the divorce, expert witnesses to the proceedings and court staff, according to the Associated Press.
The request, filed by the lawyers for both spouses, said that Bentley "holds a prominent office in the state of Alabama, and it would be in the parties' best interests that the public not be able to access the record."
Dianne Bentley filed for divorce Friday, August 28, citing "an irretrievable breakdown" and "complete incompatibility of temperament." Robert and Dianne Bentley have been married for 50 years as of July.
Bentley was first elected governor in 2010, and was re-elected in 2014. The couple has yet to publicly address the divorce, other than to release a statement requesting that the public respect their privacy.
Colorado takes a hybrid approach to the sealing of divorce and custody records.  Some records are sealed automatically such as sworn financial statements, Child and Family Investigative Reports,  and Parental Responsibilities Evaluations.  Some courts seal Separation Agreements or Permanent Orders, while others do not.
If a custody action is filed under the Juvenile Code (paternity actions), the entire file is sealed.  A Dependency and Neglect action is also sealed since it is filed under the Juvenile Code.
Parties may request that some or all of their court file be sealed to the general public.
Do You Need Help Finding an Answer to Your Question?
If you have questions or concerns regarding a divorce or family law subject, please use the form below to send us your question. We respond to all inquiries. Some questions may be chosen for this Q&A forum. If so, all personal information will be removed before posting.
The information on this website is provided for general information purposes only and should not be taken as legal advice for any situation. Legal counsel can only be given after an attorney-client relationship has been formally established. The decision to hire a divorce lawyer in Denver is critical and should not be made based solely on the strength of an advertisement. We invite your inquiries into our qualifications and record, as well as any further question you may have.
303-534-4888
104 Broadway, Suite 200
Denver, CO 80203
Fax: 303-534-4488

©2019 Sharon D Liko, Men's rights Law All Rights Reserved